Vincent Nguini - Guitar
Bakithi Kumalo - Bass
Mark Stewart - Guitars, Cello, Saxophone, selfmade instruments
Tony Cedras - Accordeon, Keyboard, Guitars
Andy Snitzer - Saxophone, Synthesizer
Jamey Haddad - Percussion
Charley Drayton - Drums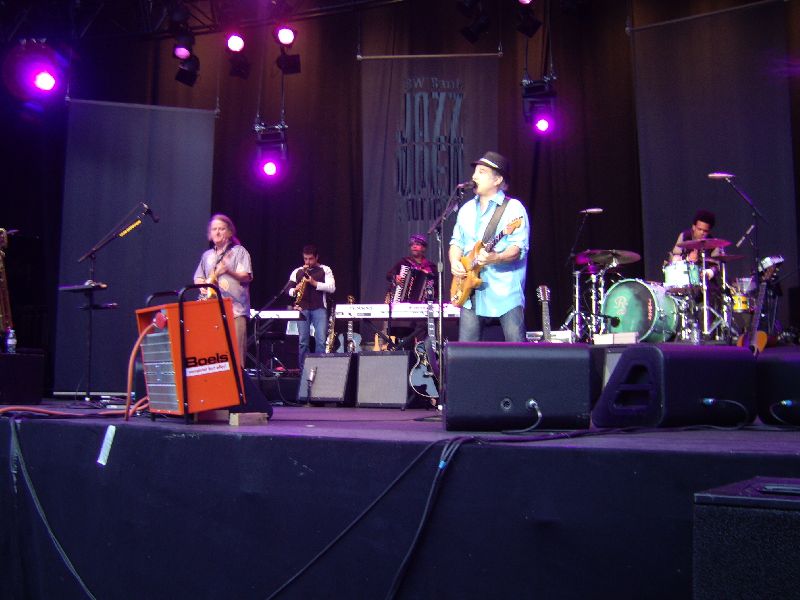 I arrived early in Stuttgart to meet some other fans. First I had a look at the location of the concert, it was a great location in the open air with a big covered stage, at the side and back seated areas and in the middle free standing places. In the afternoon I met my friend Rosi and we walked to the hotel to meet some other friends. We had a good time with Klausi and Kerstin. We also met Susi and Mandy again at the concert location. We stood in line early to get some good spots. They let us in at 18.00 hours. At 19.00 hours there was first a performance from Raoul Midón, he played for about an hour. A very strong appearance, he sang his songs and accompanied himself on guitar and used his lips to make the sound of a trumpet which sounded very real! He told some nice stories about his songs and how he met Stevie Wonder who worked with him on a song for his latest album. He is a very good singer/songwriter. My friend and I bought a CD from him the next day. It´s worthwhile to check him out.
After a break Paul and his band came on stage and a wonderful evening started. We stood on the first row, a little to the right which was a great spot, Paul looks and sings more to the right. I had a great time, dancing, clapping and singing along with the songs, Paul must have noticed that I was completely into his music because at the song ´That Was Your Mother´ Paul pointed at me, again I was the Cajun girl, he looked at me for several seconds and smiled a big smile and made some more gestures with his hands to me and I made gestures back, telling him with my hands and a big smile how great the concert was. It was a great moment. The songs sounded all great with again great solo´s. I really like it when Tony comes out to play guitar together with Paul and Mark at The North East song and of course Bakhiti with his great solo´s. Again I liked the drumming from Charley Drayton very much. As said by so many people before, the whole band plays great! The atmosphere was terrific, Paul and the band had a great time, a great connection with the audience. You could feel how the love and energy from the audience flowed to the stage. Paul thanked the audience often and told us we were a pleasure to play for. This was my third and last concert from this tour, a great closure.
After the concert we had a few drinks at a bar to close this wonderful evening. It was very nice to meet other fans which I knew from the forum but hadn´t met personally so far.