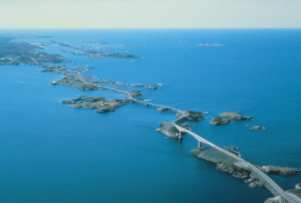 Should have written this days ago, but summer is busy. Paul Simon playing at the Molde International Jazz festival was this years big event for me. This time I was going to be really prepared, having a lot to catch up with after 10 years without listening to any of his music. Departure Tuesday afternoon July 16, by boat to the mainland, then by bus to Oslo, stopping to pick up my friend and travel companion, Gro. We both went to the Paul Simon concert in Stockholm two years ago. (So hopefully this is just the beginning of a looong tradition... but then maybe that is just wishful thinking ).

Tickets bought months ago, room reservation made (lucky to get any at all), the ´You´re The One´CD cover/booklet and pen in my bag just in case there would be an opportunity to get an autograph.In my backpack; a box of dried lavender from my garden for a ´lavender & roses´ - welcome bouquet.( Molde claims to be the ´city of roses´, so that would suit well) On my feet; ´Diamonds on the Soles´ - sneakers.( well, since I am not a rich girl; ´Rhinestones on the Soles´ shoes is more correct. My fingertips still sore from the hard work sewing them on).
The bus departed for Molde at 10 pm, we expected it to be really crowded (full of fans ?), but fortunately we got a double seat each. The guy in the seat behind me turned out to be an old fan of Paul Simon. He was not familiar with the latest recordings, so I lent him my walkman with the ´You`re The One´ tape to listen to.

Arriving in Molde early next morning, we knew Paul Simon and his band were coming the same day - to relax and enjoy the festival one day before the concert. We felt right on schedule! -
After finding our place to stay we went down town and ended up at the Hotel Alexandra where we had been told Simon & co were most likely to stay. Plenty of people in the lobby; journalists and jazz festival functionaries and -management. We seemed to be the only ones without a bunch of cards and passes around our necks. Something was in the air, a nervous expectation. I certainly felt it and could not even get myself to sit down, half expecting to be told to leave anytime. After a while a black van arrives, guys with ´Artist Transport´ on their backs start unloading luggage and instrument cases, amongst them something that looks like a cello ( Which means Mark Stewart is probably not far away !).More people coming out of the car . I recognise Jamey Haddad,Steve Shehan and Jay Ashby passing through and suddenly Vincent Nguini and Tony Cedras(looking really cool with all the braided hair down his back) are at the counter talking to the receptionist. We lingered on for yet some time in case Paul Simon would show up (I did not even dare to ask anybody there if it was any point waiting - later we were told he had arrived first.) Finally we decided to leave the hotel.

Good decision; on the pavement, walking straight towards us came Vincent Nguini and Tony Cedras. This was my moment! As they were about to pass I took the opportunity to tell them that I was a big fan of Paul Simon who would like to give him some flowers and asked whether they knew if he was staying at the same hotel as the rest of the band. They were quite friendly and said they were pretty sure he was.
Then Cedras wondered how we knew they were playing in Paul Simons band (!?). The question startled me, I told them we both had been to one of the concerts in Stockholm on the 2000 tour, and that I had the DVD from the Paris shows. They were both friendly, and Tony Cedras quite cheerful, so before our little conversation was over my friend took a photo of me posing between Nguini and Cedras.( I laughed and said I felt like a teenager, and Tony Cedras replied I would always feel like a teenager together with them!) Before we split they both signed my YTO booklet their autographs. I felt incredibly lucky, and after this excitement we sat down at a cafè only a block away from the hotel. Sitting there Steve Shehan is strolling by, tanned, wearing a leather jacket and leather hat, looking like he just got back from one of his safaris. (Actually I think he did some concerts at a festival in Morocco earlier this summer, playing with Jamey Haddad)


Before walking up to the Romsdalsmuseum we had a florist add some roses to the lavender, wrote a ´we love your music - thank you for coming to Molde´-card to go with it. Then back to the hotel and asked the receptionist if she could see to it being brought to Paul Simons room. It was a relief not having to worry about the flowers anymore, fragile as they were.
At the Romsdalsmuseum, an open air heritage museum surrounded by woods, a stage was set up at the bottom of a grassy field. The whole place had quite an intimate atmosphere. Crew was busy. We positioned ourselves right in front of the stage, this was where we were going to stand at the concert!
After checking out the facilities I guess we took an early night because we were tired.


18 July. Cloudy weather, expecting rain. Temperatures not too cold, not too hot...just right. We prepare for long hours of waiting in line; bringing food, water, extra clothes and raincoats. Then go down town for coffee and the daily
Jazz Festival Street Parade. We buy several different newspapers, to find any Paul Simon related information. The local paper reports; Paul Simon arrived in a good mood,(pictures of a smiling PS) he was impressed by the view from his hotel room (the fjord, mountains). Several of the band members went fishing in the afternoon, while Simon went to a concert ( and later a backstage talk) with Hancock/Brecker/Hargrove.
Decided to be first in line we arrive at the Romsdalsmuseum at about 1 pm. (The gates are to be opened at 4pm, concert to start at 6 pm ) Yes we are early.Gates are open,nobody there, except for crew working. We go down to the stage again, now with a security fence in front, and find our perfect spot. Then we walk around a bit enjoying the atmosphere. Still nobody queuing yet. We go to sit down at a restaurant near one of the entrances, just on the inside of the fence. There on the terrace we order something to drink, read the newspapers and talk to a few other fans also waiting. We decide to sit there until somebody throws us out. But that never happens! After a while somebody starts playing, and we realise it is the band on stage rehearsing! We can see the stage on the other side of a duck pond, behind some birch trees. We forgot to bring any binoculars. But despite the distance we were able to recognise Paul Simon and some of the band members. The play fragments of ´Late in the Evening´, ´The Boy in The Bubble´, ´Mrs. Robinson´ and a few others. Paul Simon stopping in between, correcting and adjusting. What a treat! What a great way to spend the time waiting for the real concert to begin!


When the gates open and people start getting in I run down to the stage. In fact I run for life ( it must have looked a bit funny - because I don´t think not anybody else did ), so I was kind of alone on front of the stage before the rest of the crowd came. My friend, who walked down in a normal speed, managed to stumble over a wooden root and hurt her leg, still not so bad that it spoiled her concert.
Now we could sit down on the ground , talk a bit with other fans and begin the actual wait while the place was filling up. The sun even came out. Mixed audience. Families with children, old and young. Half an hour or so before the show is about to start, I need to take a stroll - assured by my friend she would defend my place with her life. Just outside the fence to the right of the stage I bump into Mark Stewart and Steve Shehan talking to some girls. Mark Stewart says the entire band loved the stay in Molde and they would like to stay for a week.
I get to tell them how great I think they are as musicians, and they both signed and made little funny drawings in my YTO booklet. Thank You!
Time to get back to my place before it all starts. Security guards lining up behind the fence in front of the stage. Water buckets with sponges stand ready in case it gets too hot (never got to use), ear protectors are being handed out to those who wants it.( A father , presumably, gets a pair for his young son who is sitting on the security fence. ) The excitement is building up. A guy resembling Bruce Willis, takes a position right in front of us, watching the crowd with a gloomy air. We recognise him from the newspaper as Paul Simon´s personal bodyguard. No wonder he looks sinister with all these people to watch! Though grateful for his obvious concern for Simon´s safety, we feel kind of relieved when he leaves the place to a much more friendly looking member of the security staff.


Finally the big event is about to start; a load of journalists/photographers are allowed to enter behind the security fence, wearing heavy weight cameras around their necks. Fortunately they are to leave after a couple of tunes. The band enters the stage . Big cheers from the audience! Paul Simon enters the stage . Even BIGGER cheers! Simon is wearing black jeans (red tab), a burgundy sweater, black leather shoes (brand new?)and a black cap. The set list is the same as earlier on the tour, opening with the beautiful new ´Bridge Over Troubled Water´ .
It feels great to be so close. I am standing a little bit to the right of Paul Simon, so that I can see pass the sound monitors centerstage. Great to have Vincent Nguini play his guitar at my right and behind him Bakihi Kumalo on his bass( yes, he did his little performance dancing in Molde, too)I get a good view of Jay Ashby (obviously having a good time up there) on percussion and trombone, Andy Snitzer (who is to give some incredible solos on his saxophone) and the new trumpet player ( and whistler !) Jim Heinz. Jamey Haddad is kind of hidden at the back, but we can easily follow Steve Shehan working all his strange percussion instruments. Steve Gadd in the middle is hardly seen, but we hear him! By standing on my toes I can get a glimpse of Alain Mallet and Tony Cedras on keyboards and accordion. Luckily Mark Stewart is easy to spot at the very left; a wonderful multi-instrumentalist who really gets into the music and whose big smiles left no doubt that he enjoyed himself.(Love his banjo on ´Hurricane Eye´) From now on it is two hours of pure joy!


Paul Simon himself seems to be in great shape; really rocking it to the upbeat songs.(The newspaper later wrote Simon had spent time working out at a local fitness centre before the concert; exercise obviously pays off!) He played great guitar, his voice sounded great during the whole two hours, he moved freely around the stage, dancing, playful yet in control of the music. And he was quite communicative both with the other musicians and with the audience, even though he did not speak much between the songs except for introducing the members of the band (who all seemed to get really warm and enthusiastic cheers). Once he spotted the father with his little son sitting on the fence, he looked at him in a friendly/mildly worried way, pointed at his own ears and said ´Too loud´( lip-reading, as he did not wear a microphone on his walkabouts around the stage)He made little jokes, like to the person holding up the cover of ´Still Crazy´, probably desperately wanting him to sign it; ´Yeah, I´ve got that one too !´


It was so great to be able to stand up and move to the music during the whole concert. Who is able to sit down to songs like Graceland, You´re The One or You Can Call Me Al? At some point during ´That was Your Mother´ - the part where he sings about the Cajun girls - Paul Simon points at me (!!) Big event! (...later I have learned that he usually does that during this song if he can see a girl dancing in the front row...Still, it is something to remember. I´m just glad he is not like Springsteen who takes/used to take the girl upstage to dance with her; that would probably have been more than I could cope with!)


So many highlights ; I was particularly happy to get Spirit Voices and The Coast,
(an enthusiastic audience is good, but here Nguini`s beautiful and subtle intro got a bit lost in all the applause) Late In The Evening blows us all away. Everybody up dancing. After this Paul Simon starts saying thanks to the audience. What?!? We just got started. We want more, and of course they come back for encores.
We get Hurricane Eye. We get Proof; one of my many favourites. On the internet I had red about fans giving their cell phones to Paul Simon during this song. So I had mine ready just in case. When he got to ´Proof...Some people gonna call you up, tell you something that you already know...´I picked up my cell phone and joined him ,singing the words into it. As I was standing right beneath him, Simon saw it and kind of made this gesture like he wanted the phone. I made another gesture back asking; ´do you want it?´ And ´yeah´, he wanted it...Now I was glad the Bruce Willis look-alike bodyguard was not around, he probably would not have liked this. Paul Simon was at the microphone singing, and because of the security fence I could not even touch the stage. I was never a good pitcher, so I did not like the idea of throwing the cell phone up on stage - did not want him to get hurt! So quickly I handed over the phone to the friendly-looking security guard who was standing right in front of us. He looked a bit surprised, but when Simon kind of waved his hand and we went ´Throw it! Throw it!´, so he did.
Paul Simon caught in the air , turned it around a couple of times, as to find out how it worked. Making jokes; ´ Who shall we call now ? We can call anybody. Let´s call...Tokyo..´ Then he starts pushing a whole lot of buttons. At the end of the song he throws the cell phone high up in the air, making it swirl around, and catches it on the way down. Very confident! As a final stunt he takes up a bottle, splashes water up in the air letting it fall down on his face like rain. All this while he is performing ´Proof´! Then he moves towards the edge of the stage, gives the cell phone a kiss and throws it right back to me.( Nice pitch, nice catch.) A memory for life! (for me..)
We get more encores. Nobody wants it to end. We get Cool, Cool River! But after Still Crazy...nobody can get them to continue, no matter how much we cheer. I think the last person to get off the stage was Jamey Haddad. He is carrying a big white towel. Somebody in the audience catches his attention, and obviously wants a souvenir, so Haddad throws the towel into the crowd before leaving.

A wonderful evening is over. The best concert I have been to, ever. Hopefully the headlines I have read in some of the newspapers are wrong; saying that this will be the last great tour for Paul Simon. But let us focus on the good news; Paul Simon is on the way home to work on his upcoming CD. Can´t wait!