Vincent Nguini - Guitar
Bakithi Kumalo - Bass
Steve Gadd - Drums
Mark Stewart - Guitars, Cello, Saxophone, selfmade instruments
Tony Cedras - Accordeon, Keyboard, Guitars
Andy Snitzer - Saxophone, Synthesizer
Jay Ashby - Trombone, Percussion
Jamey Haddad - Percussion
Alain Mallet - Keyboard, Accordion
Steve Shehan - Percussion
Jim Hynes - Trumpet
Harper Simon - Guitar



I have never seen Paul Simon in concert before. When he last toured in Scandinavia I was way too busy (and out of money) to go and see his concert at Stockholm. Damn! Year later my salvation came.At spring 2002 Pori Jazz Festival revealed their this summer´s line-up - Angie Stone, Joe Cocker, Elvis Costello etc, etc... oh yes and PAUL SIMON! I couldn´t believe it - he is actually going to play a concert in my small town. I buyed two tickets at the same second they went on sale. Yes, yes and YES!
The venue was Delta Arena at the Kirjurinluoto Concert Park. It´s an amphitheatre-like outdoor area inaugurated a year ago by Eros Ramazotti. Only Paul Simon played there this year. All the other outdoor concerts were held at the "legendary" stage at the heart of Kirjurinluoto. The festival line-up that day, Paul Simon´s support acts if you will, also included Bo Kaspers Orkester from Sweden and Miriam Makeba from South Africa. When I learned that Makeba is also playing in the concert I started to have these daydreams about them dueting a certain song here, you know, under north-european skies. As it turned out, no such luck.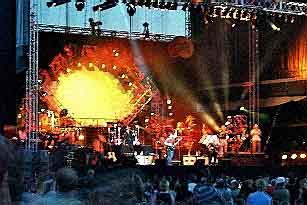 Me and my girlfriend located ourselves left from the mixing desk with a great sound but poor visibility - fortunately Paul Simon doesn´t include pyrotechnics and cardboard dragons in his stage show (but then again, how would I know - I´ve never been in his concert ;-), so I choosed sound over vision. Bo Kaspers Orkester was first on the bill, and they played rather enjoyable set. Nice little "taste of the treats to come" came when they opened one of their song with a snippet from "The Boxer". The sun was shining and the crowd were "rocking" from the first song onwards - they even did one encore and then complained that "we can´t play you more songs or someone is going to kill us". Those damn timetables.

Miriam Makeba was up next. Her set nicely brought the audience closer to the sounds and moods that were still to come. During her twenty-minute opening song (when she introduced the band) I momentarily thought that they are now covering some Paul Simon song... or other way-around. Then there was this little child. Standing there on stage with Miriam Makeba. Singing. Makebas set was closed by this grand-grandchild of Miriam´s singing alone to the crowd. And the crowd did scream and applause when his number was over! Sun was still shining - and it shone from even more happier angle after that.


When the screen next to the stage stated "Next On Stage - Paul Simon", I knew, that my long wait is soon over. Then without introduction speeches or nothing, ten minutes ahead of the schedule, he walked on stage and the opening sounds of "Bridge Over Troubled Water" filled the air. The sound was crystal clear. It sounded beautiful, so beautiful. Graceland came next, and so did the funniest event of the concert. At the end of the song Paul jumped off the stage and went down to shake hands with the first row. Then he tried to get back on stage, but couldn´t. The stage was so high that he could´t get there easily, so he jumped and just sat on it and started kicking his feets high on the air while playing his guitar :-). You´re The One came next. "You are the air inside my chest" - I just closed my eyes and let the air of the moment take me away. Unfortunately - especially in festivals - those are rare moments. There are too many things going on around you, that focusing on the music is really hard sometimes. There are people talking, people walking, people drinking and people doing God knows what at the festivals (playing games with their kids during set). Thats mainly because people has come to the concert for various reasons. They necessarily doesn´t even know who Paul Simon is! They´ve come to the concert to meet friends, drink till their head spins or just because it´s the place to be. It´s just part of festivals. An annoying part of festivals.




But Paul played on... The "Greatest Hits" -set continued; how to leave your lover? Just consult your mother. "Come in from the schoolyard" - shouted the teacher. The band sounded and played great! They sounded tight and loose at the same time - a quote from a local newspaper puts it right; "they mastered their instruments perfectly: they are technically very skilled, but the sound they produce via those skills are very earthly, very humane". Indeed! To my big surprise Paul´s set included "Spirit Voices" - with a slightly different arrangement. A Nice surprise - I really love that song. "Diamonds On The Soles Of Her Shoes" got the audience going again and the "live killer" called "You Can Call Me Al" hitted the jackpot! Acoustic set followed: "The Sound Of Silence" made the audience listen. "Homeward Bound" made them clapping and return of electric guitar in "I Am A Rock" made them dancing. Great concert so far! After "The Boy In The Bubble" came the moment I´ve been waiting for: "The Coast". The live version of the song from the 1991 Central Park CD suites perfectly to the mood of bright summer mornings. How would it suit summer evenings? By the time of "Late In The Evening" I was sold!




First set of encores brought an another surprise to the show: "Slip Slidin´ Away" - I never thought I´d hear that song during the concert - live and learn! After the first encore some people were already leaving the venue! Well, it´s their own fault that they missed the "updated" version of Mrs. Robinson. Not to mention "The Boxer" - Paul was all smiling when the 20.000 strong audience sang "Lie-la-lie...". The solo in the middle was played by a trumpet - it sounded simply wonderful. A truly magical moment! After the song Paul spent lots of time thanking the audience. He was seemingly taken! He came back once more. "The Cool Cool River" sounded like a mighty Mississippi. "Still Crazy After All These Years" beautifully closed the set. I have finally seen Paul Simon live in concert - and can´t wait until I see him again!