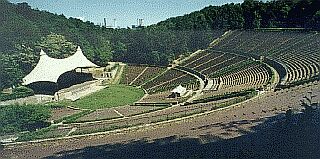 Three days without a concert - we were so hungry at this time ;-)

Our last concert was in Montreux on Monday, and we didn't forget Tony's promise about our passes - but we thought maybe Tony forgot it. So we drove from Dresden away at 9 in the morning to Berlin to meet him at the hotel. We should be there at 12 so that he has enough time to sleep. We were very nervous, because we didn't know if we were allowed to go into the hotel and had no idea if they believe us that Tony wants to speak with us.
I told the woman at the reciption that we have a meeting with Mr. Tony Cedras at 12. She looked into her computer and we waited... waited.... Then she asked when this person should have been arrived. I said: "Today at about 6am" ..I was getting nervous, maybe the will throw us out of the hotel or so. Then she asked:" Is it written with a 'Z' Zedras?" "No, C!". Suddenly she gave me the telephone and I had Tony on the line :-) I can't remember what we spoke exactly, but he remembered me and his promise, was very sleepy and interested in such crazy fans. He couldn'T believe that I drove about 1 miles now with my car :-). He wrote down my exact name and said we can get out passes at the box office before the show. But I was a little bit sceptical, because he was so sleepy. Then we went out of the hotel to walk a little bit trough Berlin. On the next day the 'Love Parade' started and so the city was already filled with a lot of crazy techno-fans. It was a slow day, and very hot. We walked along the Kurfürstendamm, found a cool music store where you could also buy Paul's unplugged album.


Later, at about 3 in the afternoon we walked back the street where the hotel is and suddenly saw Mark Steward coming out of the door. We talked a little bit with him, I can't remember what but he was - as always - very happy to see us, and kissed my gf for 2 times ;-). Other fans were also waiting in front of the hotel on the other side of the street, but they didn't know Mark :-) They were waiting for Paul to come out and sign some LP's... If they would have known that this was the guitar player of Paul... :) We went back to my car to drive to the Waldbühne and suddenly saw Jamey Haddad walking down the street. He came closer to us, but couldn't remember me (maybe because I wasn't wearing my black hat). So I said:"Hi Jamey ...how are you?" He was a little bit perplexed and then asked "At which show did I see you the last time?" - "In Montreux" I can't remeber what else we spoke, but he wasn't very funny at this time or in a mood to speak longer. However, it was strange to see all these band members walking alone trough the city. I maybe thought they are closer friends and spend some free time together.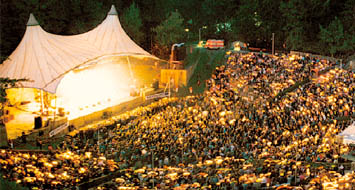 When we arrived at the Waldbühne the doors have already been opened and the fans already stood in the first rows. We decided to wait for the band to arrive, and ask at the box office for our passes. While we waited there a man who was also waiting there talked to us (he first really thought that I'm a member of the band, because I was wearing this black hat and my guitar on my back ;-) ) We promised him to sell our tickets for a lower price to him, if we don't need them. And he was really happy to meet us, and to see such crazy fans.

The first bus arrived, with Vincent, Alain, Tony, Bakithi and Steve. It was great - I didn't say a word, only looked at them and they smiled back and came to us. I spoke with Vincent and then Tony came and said that he's sorry but he forgot my full name...so many letter. I told him my name again and he wrote it onto his hand ;) We also had a gift for him, a small accordeon made of glas - he was very happy and shouted "Vincent, see what I got" (uuhh, and we didn't have a gift for Vincent ;-( ) Then they drove away with a Van to the stage.
The second bus came with the rest of the band, except Paul! We talked to Jim Haynes, if he was in the city today, but he said he only made his laundry-day today :)

Then we went to the box office to ask for our passes - they didn't have any and said we should go to the staff-entrance. At this entrance they said they don't have anything to do with that passes and we should ask at the box office....uhm. We waited there, the man at the box office said that the guest list should come later. At 19:00 the list was there and eh searched for our name - nothing. i told him that it's maybe written false, and then the guy was thinking of giving me the pass of a person called "Robert Mullwinger"... but it was only 1 pass, and I didn't want to take it from another person (how angry would Robert be..) so we refused. Suddenly he found an extra couvert, with the Name "Malo Wershneg o.ä. (or similary)" written on it - The guest passes for us!!!

We went in a few minutes later, but not sure what we can do with these guest passes. In Rome we couldn't go backstage with guest passes, so we were a little bit sceptical.
We walked to a security guy on the side of the stage and he let us in to the area around the stage. Again we met Jim Haynes there, playing a little bit on his trumpet - but very quiet. We didn't want to disturb him but were listening what he played a few meters away. Then he went into a building behind the stage and suddenly played very very loud. It was an mexican trumpet solo, sounded great. He than came out and (while the audience was starting their applause for Paul to come out, because the show started late) and Jim did as this applause was for him :) Very funny, no one could see him, only me and Mandy, and Jim made some bow's and said "Thank you, thank you" :) Then he asked me if I'Ve heard him playing that mexican trumpet sound, and I said:"yes, of yourse, it was great!" And it really was great. We then saw Tony and Vincent on the stage behind the soundboard, and Tony showed us to come to the other side of the stage, so that we can see him playing. Steve Gadd was also standing behind his drums and Mandy pointed at him and her T-shirt, because she wanted to signed it. Steve was surprised, pointed at himself like "What, me??" and then he understood and walked towards us. But suddenly Paul came out and they started playing Bridge, so Steve turned back after a few steps.

We went to the other side of the stage as Tony told us, and so we were also closer to them. It was cool, because there wasn't really a lot of security around, we could also walk into the building behind the stage where Paul came out, but there was no one except some bottles of mineral - but not Paul's one ;)

We really enjoed the show very much, dancing all the time on a wall beside the stage. During YTO Paul realized us standing there, looked at us for a moment and pointed at us. Then later also Mark Stewart saw us dancing there on the wall, he turned around and waved to us. Ah, how cool was that, everyone in the audience must have seen it ;)

After Diamonds I was very thursty and bought a beer and when I came back Alain was standing at my place. He said that this place here - Waldbühne - is wonderful, the best concert arena he's ever seen. I asked him if he knews this interview from Paul in a germany newspaper, where Paul said that this is the last tour with that band (I was shocked when I was reading it) and he said no, he never heard about that..but who knows.. Then Steve Shehan also came to us, and Alain asked him if he's heard that he's fired. :) He told him about the interview, but in french, and they laughted. Then Steve Shehan sat down to us, smoked a cigarette and talked a little bit with us. Mandy will write more about it, because I couldn't understand everything, Paul was playing I am a Rock so loud. But he explained that he and Jamey Haddad always change on that song, today he's tired and didn't want to play ;) Then he had to go back for 'The boy in the bubble'

A guy standing next to us was interested who we are, and if we follow the band everywhere a.s.o. He was from the Local Crew and then gave me his Local Crew pass as a present. (but I didn't have to work now ;) )
I sar that someone from the crew, (I think he was from the crew) filmed the whole show on a digital video camera. I wanted to ask him later if he sells it, but couldn't find him after the show.
During Proof Paul got 4 (four)! cellphones this time. That was really cool! He was singing into two of them, then took the next one a.s.o. After the song he showed to Steve Gadd four fingers -" He man, I got 4 cellphones today! " ;)
He then played Slip sliding away - a new version for me, not similar to the 99-tour version. I have to say that I didn'T like it so much. Paul played it on his electric guitar, and it sounded very hard IMO, not really a soft and gliding ballad as it should be, but Jim did a good work at the trumpet solo at the end of the song.
I forgot to mention that Paul's son's Adrian and Harper went home, and also the woman and girlfriends of the band members. So it wasn't so familiar as in Rome or Montreux.
Before the encores it was cool to see the band standing behind a curtain chatting there. Tony always lighted a cigarette in that time, but I think he never could take more than 2 or 3 puffs until they played again. After Kodachrome the band went into the building behind the stage, and we thought the show is maybe over. So we also went into the building and Mandy took out here LP's to ask Paul if he could sign them. the band and Paul were standing downstairs, we could hear them but didn't see them and were to afraid to go down the stairs. Later I heard from Alain that Jeff, Pauls 2nd manager persuaded Paul to go out again and play 'The cool cool River'. Wow!! He then also played "Still crazy" as the last song and the show ended with a big applause.

We walked a few meters behind the band to the area with the browsers. There was a big fence around it, with two fat security guys checking everyone going inside. The first 10 minutes we were to afraid to ask if we were allowed to go inside. But then also some other guests walked inside, so we went with them - no problem.
There was a tent inside, and Alain, Steve Shehan talked with a few guests. We sat down and didn't know what to do now. Steve was sitting on our table, but talked to a young woman. I was thursty, but didn't know whom to ask for something to drink. Then Steve turned around and said:" Hi, how are you... do you want something to drink?" - "Oh yes, thanks" - "Beer or water?"- "A beer" I replied. Then he went somewhere back into the tent and brought me a beer and a glas. The woman which whom Steve was talking before was from the hotel, and also could speak German. Now, that was stupid, she always asked us questions in German and we answered and so Steve couldn't speak with us. He got bored I think and walked away a few minutes later. Then Jay Ashbey came to us and said:"Hey fans, you made it again today" He asked if we will come to Sweden on Sunday, and we said:" oh, it's too expensive to fly to Sweden, but if we can fly with you it's no problem" . He smiled and said, they always have some extra tickets for important persons ;)

We then went out of the tent to talk to some other musicians. I saw Bakithi and asked him if he knews who is playing also in Pori on the 16th. He said yes, Miriam Makeba. She is a good friend of him, she just phoned him before the tour, and he played with her in NY 2 months ago. i didn'T know that Bakithi sometimes plays in Miriam Makebas band, cool. I asked if Paul will maybe do a duet with her, but he didn't know and said he also doesn'T think that he will do that. Also Jim Haynes said that Paul will not do that. Then we said goodbye to him in Jamaiky style ;)

I also talked with Tony again. He was very happy about the accordeon of glas we gave him, and said that he will gave it to his little daughter. She is 8 years old and collects accoredons. And she doesn'T have one of glas :) So we are happy that he will not throw it away or put it into a box somewhere. He asked me where I come from and I said from Austria. "Oh, from Austria - my accordeons all come from Austria. They build the best accordeons in Austria!" And he also said that he will play in Austria in August at the Saalfelden-Jazz, a free jazz performance. Thats about 100 miles away from me...maybe I'll go there but I have to ask him again on which day he'll play - he's not in the official program on the website.

We then had to go, the busses went away. Outside the entrance was Mark Stewart, really in a good mood. He had 4 woman with him, and drove with them in their car into the city. But he had time to make a nice picture with everyone . Choku, Rosi, me, Mandy... then he went into the car... He was like a 17 year old teenager at this time ;)

We drove home, a 2 hours travel on the oldest DDR highway you can imagine.

An evening I'll never forget.
Bodo