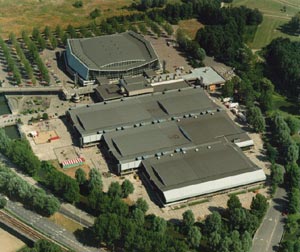 Well what a great, great night! One I will remember for the rest of my life I'm sure. My Dad and I set off at 6am from Knaresborough to catch a 10:30am flight from East Midland's Airport to Amsterdam. We arrived in Amsterdam at lunchtime, which was good because we didn't have a hotel booked, no hire car and no way to get to Rotterdam. The transport system in the Netherlands is a great deal better than here in England (No Arriva Trains!) and after exploring the idea of getting a taxi or hiring a car we plumped for a train that ran direct from Amsterdam airport. It was low-cost and very fast as we arrived in Rotterdam just 45 minutes later. Anyway we set about looking for somewhere to stay, and after about 2 hours we found the holiday inn hotel after trudging round what seemed like the whole of Rotterdam. Over the course of this 2 hour period I (surprisingly) managed to fall over some stray scaffolding and Dad nearly got run over by a tram, the weather fluctuated, hot and cold, wet and dry and when we did find the hotel it was right next to the train station! Anyway Dad got his secretary to book us a room on the Internet (as it was cheaper) and later that afternoon we checked in.

Went for a "Burger King" mid-afternoon and incidentally service is much better in the Netherlands, It was easier ordering in a foreign language country than at KFC in Starbeck where it seems English is a foreign language. They also do milkshakes, king-size meals and salads, which is nice. So stocked up on junk food and coke (and very happy as you can imagine) after a quick sleep in the hotel we got a taxi down to The Ahoy arena. In Burger King they were playing Mother and Child Reunion on the radio and then in the taxi the radio was playing Late in the Evening, which the driver, very kindly, turned the volume up for.

Had a look around The Ahoy and it was more spectacular than I had expected. A review of the Graceland tour debut describes it as "dreary concrete" but it was impressive and much larger than Sheffield (the only other arena I have been to). Took some photos and we decide to have a look round the arena to see the transport and such. I was amazed when we came to an open fire exit and inside there was the whole band just stood around talking and smoking! We walked around the car-park as they came out for some fresh air and we were just 2 or 3 feet away from Bakhiti Kumalo, Mark Stewart, Tony Cedras and Steve Gadd. Steve even nodded to my Dad in acknowledgement! I was too scared to say anything to them, they wouldn't want bothering before the show and I really didn't know what to say. I didn't have a pen either so I couldn't get an autograph.

So we went into the arena at about 7pm and security were searching everyone and everything and since I had my phone, mini-disc player and microphone and a camera with me I was very worried. Luckily I managed to sneak past the security men while they were looking in someone's bag and Dad saw them confiscate a camera. Anyone who knows me will tell you I'm a past master at sneaking through stuff and looking innocent when, in fact, I'm guilty as sin. Another thing the same people will tell you is that my organisation is appalling and imagine my dismay when I realised I had forgotten the actual disc from the hotel! L I was gutted for a split second but then I didn't care because I didn't expect to get a good recording and I could just sit and enjoy the show. Dad bought a programme and we went to our seats to take a look. They were numbered so stupidly, I was expecting to be closer because we were on the upper circle, row 3 but the seats were, ridiculously, numbered backwards so row 3 was 3 rows from the back, however it was still a cracking view and the excitement was really starting to build. We went to the merchandise stall and bought up 7 T-Shirts and a baseball cap, as gifts for my sisters and I got one of each (after London 2000 when I had no money I was determined to save up for souvenirs this time), I was disappointed there were no posters though.

Took our seats at our vantage point an hour before the show started and watched as the crowd built and then at around 8:15pm the lights went down, the band came on stage and the opening bars of the 1999 version of Bridge filled the arena. It was great to see him again and hear the band play live. He was wearing an orange T-Shirt, black cap and blue jeans. Then straight after the soft opening of BOTW he was into Graceland at full pelt and the audience roared with delight. The opening two songs being the two most well known works of his two careers. The set took the form of previous concerts with similar one-two whammies all the way, YTO and 50 Ways came next and STILL people don't know the words to You're the One but they sure do to 50 Ways!
The two "relationship" songs were followed by two upbeat songs to get the crowd up and dancing, The Cajun grooves of TWYM and the new beefed up Me and Julio (and yes I did like the new bit played by Vincent), Jim Heinz got the first big cheer of the night as he did the whistling part. It was during Me and Julio that the crowd surged forward to the front of the stage, past the security guards (good for them I say!) and a pit formed (not a mosh pit quite, more a Paul pit) but from then on there was a lot of activity down there. The next two was a combination of the most abstract song from YTO and the most abstract song from ROTS, The Teacher which again nobody seemed to know around me and then Spirit Voices, and this version really is sublime. Download it from Nicolas's site if you haven't heard it. The Intro was spoilt a little as Vincent's guitar wasn't registering (a problem that would continue all night) but the outro was played on soprano sax and was amazing. So then it was the two Graceland hits that really whipped up the audience as everyone sang along, danced and joined in the Ta-na-na-na-na bit on Diamonds and yelled You Can Call Me Al. Again the opening chords of YCCMA couldn't be heard properly as Vincent was having problems but the bass and drums kicked in and it was all fine. I don't think we'll ever get sick of Steve Shehan, Steve Gadd and Jamey Haddad battling it out on percussion after Diamonds! And Bakhiti's wonderful and very amusing dance at this point was coupled with the two fantastic bass solos in YCCMA.

Paul ten calmed the crowd down or the S&G set and surely one of the highlights of these concerts is the magnificent version of SOS played just by Paul on acoustic and Mark on Cello. The intro was the 1991 version and then ran into the original. The lighters came out and everyone joined in. Then the delicate Homeward Bound again just Paul in the spotlight and for the finale was the anthemic I am a Rock (I am an Iiiiiiiiiiiiiiisland), which was followed by The Boy in the Bubble - another anthem and my favourite song. I've heard it in concert twice now and the accordion opening just gets better I'm sure. Everyone was up again dancing and yelling, "These are the days." at the tops of their voices. I was pleased with the crowd; it wasn't nearly as sedate as London. We were nearing encore territory and I had been praying they would sort the problem on Vincent's guitar before The Coast but alas they didn't and the riff was lost on this evening. However it gave me a better chance to listen to Paul's acoustic part, which I never seem to be able to pick out and Mark Stewart's mandolin.

Next up Late in the Evening, which must be a Dutch favourite because it was really well received. I don't think Paul did the scatting either which is disappointing (but I could be wrong!). Steve Gadd's drum part is wonderful on this. In fact it was around this time someone at the front was chanting for Steve Gadd and Paul said, "Well, I can't argue with that" and motioned for him to stand up. The crowd applauded Steve and when he sat down Paul said "Don't you think saying stuff like that could have a bad psychological effect on the rest of the band?" Hurricane Eye is a great song and is probably my favourite off the YTO album; again Vincent's acoustic part couldn't be heard properly! I agree though that the outro is far superior to the recording. As Yoast said in the ng someone was calling for a song in a death metal voice and Paul said "well, no-one's gonna argue with that... it's a half a ton of pig-meat..." Proof was a highlight for me just the sheer power of it resonating around the building, the horn section was on top form and Jim Heinz is really good (a great replacement for Evan Ziporyn). "Somebody's gonna call you up..." no mobile phone's for that bit this time!

We were into the encores now I didn't want it to end. Paul went and picked up an electric guitar and said, "now, what shall I play?" and he began the first few chords of Slip Slidin' Away! A wonderful treat that I was not expecting. I wondered if that meant I would miss another song but no it was an extra encore! Slip Slidin' was great and everyone sang along as well I remembered Bodo saying it had been heard at the rehearsals in Munich. It makes you wonder how many songs they can actually play! Especially as they played Love and The Cool, Cool River at rehearsals that day! Mrs Robinson was next and another great version of an old song, It was the new funked up style with a bass, swirling keyboard and horn solo included. Again everyone sang along and it began to sound like a football crowd in places! Loves me like a Rock saw Mark, Jay and Vincent on backing vocals and a doo wop style with Paul leading the verses and playing acoustic. He couldn't reach to shake hands with people in the front row because of the gap between the crowd and the stage. Everyone joined in The Boxer, singing the famous verses as if they were sacred hymns and we all harmonized with Paul on the Lie-la-lies. I love the way the banjo spices the song at the moment and it seems to be faded out on the Paris DVD and Jim Heinz got another ovation for the trumpet solo. So it was the last two songs and it was two hits from the seventies. Kodachrome for which I'm still not keen on the new arrangement and would love to hear the beat and drive of the original in concert. SCAATY

finished it all off and despite the crowd screaming for him to come back and play some more, they were off and away and the roadies began packing fro Berlin the next day.

It seemed to take ages to get out of the building, but once we did we made our way round to the stage door where I saw Nicolas with a few other ampsters and another guitar to be signed! He didn't recognise me of course because he's never seen me on a DVD! I couldn't speak Nicolas I was over the other side of that barrier at the first door we waited at. Anyway Paul didn' t materialise and everyone moved to another door around the back of the arena where Steve Shehan was signing autographs. There was a big scrum and I began to push my way in to get a glimpse of Paul if he should come out. He appeared and there was a huge cheer, a lot of applause and camera flashes went off, it was like we were the paparazzi and I felt like it too as I lifted my camera above my head and began snapping away. I hope the photos come out well! As the crowd surged Paul said, "Move back! Move back! I don't want anyone to get hurt". I couldn't believe how close I was as I pushed to the front of the barrier and I was practically face to face with him. He began signing stuff, I saw a concert in central park CD booklet, a Bridge Over Troubled Water LP and a T-Shirt get signed. I thrust my tour Programme in his direction and he took it off me and signed it in black marker pen on the back. I was absolutely lovin' it! I never thought I could get so star struck but it was all a blur. I shook his hand and said thank-you (for what I'm not sure, all the songs he's written or the concert or for signing an autograph.) He replied, "Ah, I appreciate that!" Somebody asked Paul to get Steve Gadd, to which he replied, "No, I can't get you Steve Gadd, He's too expensive!" After that he said he had to go and got on the coach. We waved the two tour buses goodbye as they left the arena for Germany and got in the taxi back to the hotel.

One amusing moment in the taxi was when Dad motioned for the driver (who didn't speak English) to wind the window down. He did so and dad thanked him in French! D'oh! So back at the hotel we went to the bar and had a few drinks, rang home to tell them all about it and when back to our rooms to sleep. I couldn't sleep though I was running on pure adrenaline and too tanked up on caffeine. I was drinking coke by the 2 bottles because they don 't do pints in Holland. In the elevator a Dutchman looked at the pile of T-Shirts I was holding and said, "You have a lot of things of Paul Simon there!" I showed him the autograph to which he was suitably impressed!

We had to be up at 6am to catch a 9:45 flight back to England. I didn't care though I was and still am on cloud 9! So after 2 planes, 2 trains, 2 Taxis, 7 T-Shirts, 15 Photographs, 1 baseball cap, a programme and an autograph later we were home and I slept all afternoon. Otherwise I would have written all this yesterday! I'm sure others can clear up any inaccuracies but I will finish how I started...what a great, great night!