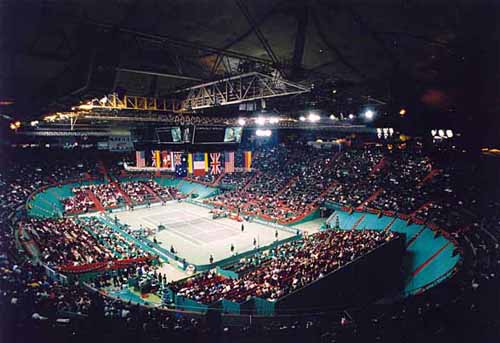 I was a little bit late when I arrived at the Olympia Hall in Munich to meet Simon Murgatroyd and Gergo Barany from the NG - this maybe has something to do with a insane BMW driver - I took the wrong way and suddenly was standing in a jam :-(
I think Simon and Gergo got a little bit nervous about their tickets and Simon said that he was thinking of buying his own ones. Sorry for that.

When we came to the Hall Paul was still in the rehearsals for the show. I remember Diamonds and Proof and Simon said that he also played 'Slip sliding away'. I was happy about the pictures from Nicolas site, so I found Simon easy at the entrance. Also some minutes later Gergo came to me, but I didn't know that it was him. I was selling one of my extra tickets and Gergo began to bide for that ticket :) He maybe thought I'll sell his ticket. We waited for I think 40 minutes then also my friend Roman came with 2 other guys. As I didn't find Mauro Regis anywhere we decided to go into the Hall at 20:15.


The security was realy hard this time. They checked nearly everything!! So I brought back some of my more expensive and maybe disastrous equipment to the car ;-) But I still had my camera and my cellphone.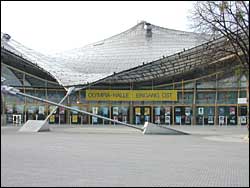 Before the show started I checked the souvenire shop, but I must say that it's a little bit lousy this year what they sell. I didn't like the shirts, they look very cheap IMO and I also didn't buy the last years 2001 program booklet...10 Euro for 2 double sides is too much.

So now we come to the main program:
Paul started his set at 21:15, 15 minutes later but that's ok. The Hall wasn't sold out, I guess about 6000 - 7000 came, but this is one of the bigger events in Europe this year.


My seat at the first row wasn't thrilling because the stage is very small -so my seat wasn't in front of Vincent - it was in front of some boxes on the side. We also could see the soundboard on the side, and I envied a young boy who was standing there on the stage (maybe with his father) and could take some pictures.


Then the band came out, and at least Paul. I heard the first notes and thought he will start with TWIB, but then after a few chord's I realized it was Bridge over troubled waters. Paul was wearing his orange T-shirt and a blue jean, his cap was black this time. He looked very relaxed and had a brown complexion, maybe he just came back from vacation.


He played the new 1999 Bridge version, and at this time I thought he will play a completely other set. I was happy :) But the he went into Graceland, and YTO followed so I realised it would be the same set as everywhere, but maybe with some changes later?


The band played very well (as always) only at some songs it seemed as if they haven't been clear about when starting the next song, or as if they are a little bit out of 'touring'. But that's clear, it's the first show of the tour. At 'That was your mother' Tony started playing the accordeon and stopped, because no one followed playing with him ;)


The first surprise for me was 'Me and Julio' where Vincent played some new guitar riffs and when it came to Andy to play the fluete - there was Jim Heinz doing this passage by whistling. That was really a great moment, everyone in the audience liked it and Jim got a big applause.


During the drumm solo at Diamonds Bakhithi was dancing so great - he also wanted Vincent to dance but he run away ;-) ) . The security was horrible again. A guy was sitting direct in front of me and gave me a shove back to my seat when I tried to dance. But the people at row 3 and behind were all dancing. I took a sheet of paper from Simon and wrote 'We will dance' onto it and showed it to Paul. He was reading it from the distance - but didn't react on it.


Then he went into his slower set, starting with SOS and the audience calmed down a little bit. I asked the security guy in front of me if I'm allowed
to give Paul my cellphone during Proof, but he only said that he doesn't know and the will discuss that.....mpf. :-( At this time I was a little bit depressed, because the security destroyed the show for me - then suddenly 3, 4 security persons went away, and a few seconds later about 15 new guys came back. I thought they got scared from the dancing people and increased the security.

But then a lot of people from behind began to ran to the stage - I reacted very fast and jumped up from my seat to the center in front of the stage. Now I was standing between Paul and Vincent, a great place where I could see Paul very close and also a lot of the band members. It was fantastic. The sound changed totally, because I had Vincents box in front of me - so I heard his guitar playing, and I didn't hear Pauls voice trough the micro, I heard him directly. It was pure fun. I also saw the young boy again, he was sitting between the drum's of Gadd and Haddad. Later he also came up to Haddad and played a little bit percussion with him. So I maybe it's Haddad's son? I had a lot of gesture-conversation with some band members and also with the young boy. I showed to Bakhithi that he should dance again and he smiled to me and danced a little bit. Later at the encores Bakhithi wanted the young boy to come onto the stage, but he was too shy. Bakhiti tried to gave him his bass and he should play, very funny. I also gestured him to come on the stage but he only smiled and shaked his head.


When the band came back for the 3th encore (and they gave 4!!) Vincent looked at me a moment and I pointed at his guitar pics if he could give me one. He gave it into my hand from the stage, great moment. I also could shake Paul's hand for 2 times when he went out, and one time he came back for the last encore he was walking very close to me and looked down - then I shouted "Bernadette, play Bernadette, Bernadette" :-) But he was only smiling.


The last encore was Proof and I knewed that this was my chance. I missed the first 2 refrains, because Paul didn't take the micro and wandering around. So during Vincent's solo I showed Paul the cellphone and then he understood. He came and took it, then he sung the last verse (throwing my phone a little bit from his left to right and left hand) and at the last refrain he sang into it ;-) Then he came back and gave it to me.... wow.

After the show was over we went out, no idea where we should go. Ah yes, Vincent realized that Simon Murgatroyd was there and he knew's him from London and NY from the last tours. So he pointed at him at one of the last encores and showed him that they should meet outside.


We walked around the Olympiahalle and then I saw Vincent walking out of the back entrance. So I run to him and asked him to sign my ROTS LP. I thought he would love to sign this LP, because he had a lot of influence on it, and so he did. He is a very nice but also quiet guy, so I didn't have a lot of conversation with him. I saw Bakhithi, making some jokes with a couple of young women and also went to him for a signature. He said that he gave up signing 15 years ago :-) But he was in a really good mood and I could persuade him to sign it. Then he also signed the T-shirt of my gf.
Suddenly Jim, Alain and Andy came out and I begun to take some pictures of them. I spoke a little bit with Bakhithi, about his dancing during Diamonds..and he was joking abouth that he's so fat ;-) He was so funny. I asked him who the small boy was, sitting behind him all the show, and he said it's Adrian - PAUL's SON... wow ;-)

Then I spoke a little bit with Alain and Mr Haddad. Alain was plaing his YCCMA solo all the time on a small instrument (can't say what it was) and was dancing around a little bit. I asked him if he could speak with Paul and tell him to play Bernadette ;-) And he said: Oh, we don't speak with Paul -- smile" " But then he asked when I'll come again - I said Rome, Montreux and Berlin. So maybe the'll play it ;-)

Jim Haynes was playing with a baseball all the time, throw it into the air and catch it a.s.o. and I took a picture of him and cried 'Homerun' :-) Then I spoke with him, and I have to say he's the kindiest member of the band. He was so happy when I asked him to signature the LP. We spoke about his whistle during M & J and how fascinating this moment was for him. The he asked for my name, and where I come from. I showed him my "Limegreen Lizard" T-shirt and explained it. And he was very surprised when I said "See you in Rome" I had a long talk with him, and hope I meet him again at one of the shows.


But then I saw Adrian and I couldn't resist to talk to him a little bit. I came to him and said: "Hi Adrian" and he also said "Hi" I showed him my LP, and I asked him a little bit joking - Have you ever signed something (I didn't want him to sign it, it was just because he saw that I asked everyone else from the band before) He was just smiling and said :" No,..no I can't .... I can't sign "


At last Paul came out. A strange situation - only a few fans where here (about 15 - 20) and Paul had about 8 -10 security guys . We all had to stand in a row and wait. Paul signed some souvenirs, and I wanted him to sign my phone. My gf got a signature at here T-shirt, but then they said they have to go now and went to the bus ...aaaah I couldn't believe that I didn't got my signature. I went with them to the bus. Paul with 8 security persons around him. Then at the bus-door I had the chance to ask him again, but he only had a short look for me and said:" Sorry, I have to go"

They drove with the busses during the night to Brescia. And then I realized that if they drive to Brescia the will have the same route then we. I had to drive a little bit fast, because they had a big margin. After 40 minutes we catched the busses on the highway ;-) I was overtaking them very slow, and we made some pictures. My gf said that she saw Andy Snitzer sitting at one window. Then I waved them out of my window and the buss switched on the light to full beam for a short moment :)


I hope to meet them again all in Rome :)