From Rolling Stone and Globe Newspaper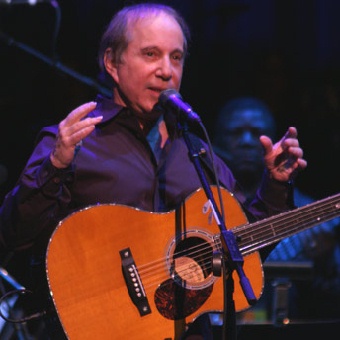 Paul performed Slip Slidin´ Away, Mrs. Robinson, Graceland and Me & Julio at Berklee College 60th Anniversary and almost ´Wartime Prayers´.

Simon was almost a no-show, because ´his voice was shot´ from the flu. One would never have guessed from the way the singer closed the night with a ghostly outro in ´Slip Slidin´ Away´ and buoyant whistling in ´Me and Julio Down by the Schoolyard.´

´I should always be announced as having the flu, which raises a certain amount of sympathy, and glee,´ Simon joked before launching his four-song turn with ´Mrs. Robinson´ and a relaxed ´Graceland,´ with pianist Hancock walking out halfway through the latter to lend his own filigrees. Both artists received honorary doctorates from Berklee in 1986.

Drummer Steve Gadd and other Simon musicians helped anchor the night´s core band, while Berklee faculty, students and alumni filled a stage complete with a choir and orchestra.

The show was running an hour behind schedule by the time Simon went on
at around 10:45 p.m. His four-song set of chestnuts was highlighted by
the strong and sinewy groove of ´´Graceland,´ with Hancock pitching in on piano, and he closed with ´´Me and Julio Down by the Schoolyard.´
Simon left the stage, presumably to return for a big-finish encore of
´´Wartime Prayers´ that would´ve included a backing choir, Hancock, and
possible appearances by other headliners.

But after a couple of minutes of
apparent confusion on stage -- as the charged-up audience clapped in
unison for more -- the announcement was made that the show was over.


Berklee´s morning-after explanation for the abrupt ending was that the
school would´ve had to pay for an additional chunk of Wang rental time
if the show had gone past 11 p.m. The point of the evening, aside from
gorging on a sonic birthday feast, was to raise money for the school´s
new Presidential Scholarship fund, and a Berklee spokesperson said the
school opted to save the money for students rather than pay for a grand
finale.