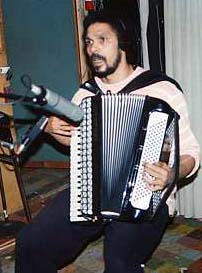 Tony Cedras
Accordeon, Keyboard, Guitars
The Bob Marley in Pauls band

Tony is the cool blend of Bob Marley in Simons band, and also one of the ´monuments´ who tours with him non-stop since 1987. He is the guy playing the famous accordion sounds opening ´The boy in the bubble´ (by that way, his accordion is from Austria - the home of accordion folk music and the best instruments of that kind (Tony Cedras))
Beside the accordion he also plays keyboard and sometimes guitar (especially on the new Surprise songs he plays a lot of electric guitar parts), and he is singin background vocals on many songs.


Although many people do expect it, Tony never appeared on any studio recording by Paul Simon.