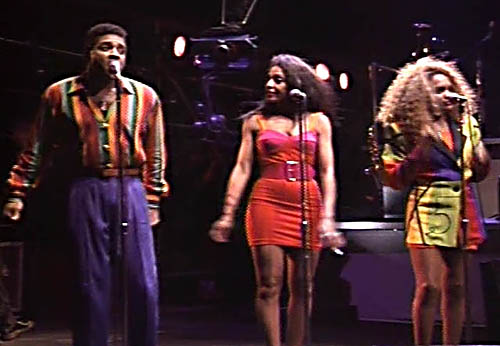 The Waters
Background Vocals
The Waters are a family group of musicians including Oren, Maxine and Julia Waters (earlier also Luther Waters) from Los Angeles. Their vocals are featured on many hundreds records which sold a few hundred million copies till today. In 1991 they sang background on Pauls Born at the right time tour, and you can see them on the ´Concert at the park 1991´ video.

They are not present as a group today as far as I could find out, so I expect they do not sing together anymore, but their individual names are credited on many albums till today. (In fact Maxine and Julia appear on albums together credited with their name, Oren who has an outstanding voice is working on other projects so I guess he has left the band)

Oren Waters has sung vocals on many movies like ´The lion king´, ´Wag the dog´, Ice age, 101 Dalmatine, Forrest Gump... see his complete filmography as a singer here:
imdb Oren Waters

Maxine and Julia Waters last appeared on the latest studio album by Rod Stewart

Maxine Waters is NOT the US senator with the same name.